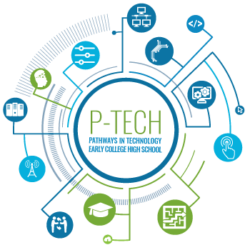 In 2011, IBM launched P-TECH, the Pathways for Technology Early College High School, in a low-income neighbourhood in Brooklyn, New York. Unlike many specialized program schools, any student that lives within the area who is interested in math and STEM is eligible to attend. Students are enrolled in a six-year program, where they take four years of high school with courses focused on STEM, and pursue a two-year associate's degree at the New York City College of Technology. Some students eventually go on to attend four-year university programs, while others may apply to entry-level jobs at IBM upon completion of the program.
Why was this school opened?
As Business Insider's article suggests, IBM opened this school with the intention to "churn out workers for corporate tech jobs". IBM noticed that the education system was very slow in regards to adapting to changes within the working world, and therefore decided to address this issue by educating individuals with a variety of tech skills such as coding and data analytics. Data have also shown that the STEM workforce in 2015 was no more diverse than in 2001, when a majority of the jobs were occupied by white or Asian individuals. While other fields have become more diverse by bringing in other minorities, the STEM field has remained the same. P-TECH provides a road to success in the STEM field for the predominantly black community through its educational programs.
Success at P-TECH
           IBM's high school P-TECH has been extremely successful, with more than half of the 100 graduates to date finishing earlier than the scheduled six years. One graduate, 17-year-old Bryann Sandy, even received her associate's degree before graduating from high school due to her high test scores and advanced courses. Overall, IBM's schooling model seems to be effective, and has even inspired other large companies including Microsoft and ConEdison to open their own schools.

Tags: school


Categorised in: Uncategorized

This post was written by Allison Wong